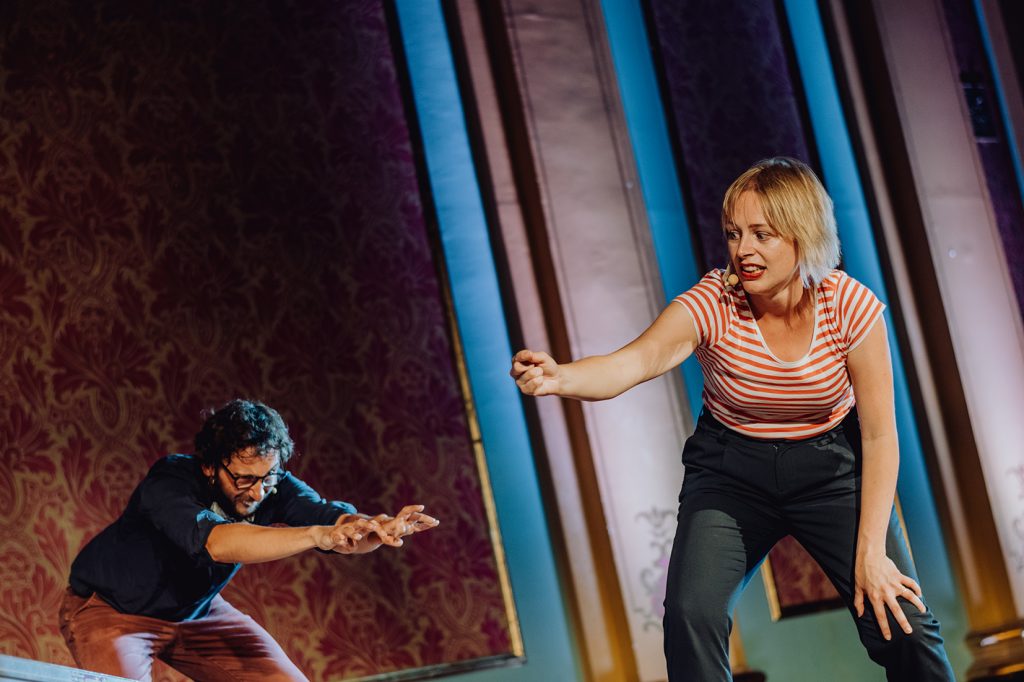 Do you want to do more moving in your improv? Make better use of the space? And connect with your fellow players to create scenes that matter?
In this workshop Laura and Gael will work with you on body positions and postures. You will explore different ways to use the space on stage.
How can our body tell the story? We know! By moving, by positioning ourselves in relation to other players, and by bringing our body to different places on the stage.
What does it mean when I say I love you, facing away from you? Which questions arise when all the prisoners are in one corner of the cell? How can we show -not tell- and surprise ourselves in the process?
After this workshop you will have more tools to make beautiful stage pictures and play memorable scenes. Above all, you will have a great deal of fun experimenting, learning and playing with two international improv and theatre experts.
Workshop is held in English.
INFO
Time
Saturday 21.9.2019 from 14:00 to 17:00
Cost
35 euros (students, unemployed, retired) / 45 euros
Location
Kaitoväylä 22, 1, kerros (Kaijonharju), Oulu
Sign up
Please, fill out this form to sign up. As a response, you will get from us an e-mail with payment info and our contact information.
Deadlines
Sign up by Sunday 15.9.2019, payment deadline is 19.9.2019
If you have any questions you can write to uu@uniikkiunikorni.fi or send a message to Uniikki Unikorni or to the event in Facebook.
Welcome!