OUI! Oulu Improvisational Theatre Festival 2013
The first ever OUI! Oulu improvisational theatre festival will be held 1.3.-3.3.2013. Festival brings forth northern talent in improvisational theatre and the program offers shows and workshops both in Finnish and English. The festival is part of the festivities of the New Oulu Celebration Year.
Info at Valve (Hallituskatu 7) is open on Friday 4 pm – 8 pm and on Saturday 12 am – 8 pm. Festival phone number is 044 3003 541.
Programme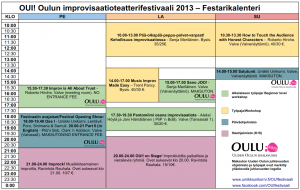 NEW! There will be another group from Roberto Hirche's workshop How to Touch the Audience with Honest Characters, which will be on Sunday from 3 pm to 6 pm.
Registrations with the form below. Please mention the second group in the comment field.
Workshops in English
We will have three workshops in English:
Roberto Hirche – Improv is All About Trust (beginner level workshop, free of charge)
We have learned to accept the structures of social interaction, we fit in, and we build a protective wall around us to make sure nothing happens to us. Breaking these rules is not considered appropriate in the society. That is why learning sometimes takes a very long time. However, as children we all learned very quickly and broke rules to do so. This ability to break the rules, to trust yourself is what surprises us in improv with unique moments. Improv also obeys rules and has structures, but as an improv player we have to be aware of the right time to break those rules. This requires faith in ourselves and in our partners. Improv is all about trust!
Trent Pancy – Music Improv Made Easy, 40/30 €
Musical Improv. The very mention of it makes some people shiver. But improvising in song is more than simply singing what you would be saying! Every song has a structure. Every structure can be learned! In this introduction to musical improv workshop we learn how to set-up and payoff rhymes, how to construct a song, how to perform a song, and how to make your audience drop their collective jaw! By the end of the workshop, participants will have the tools to create an opening number for an improvised musical, complete with song, choreography, characters, storyline, and jazz hands! Because in musical improv, it's not about how well you sing it, but about how well you sell it.
Roberto Hirche –  How to Touch the Audience with Honest Characters, 40/30 €
On stage we tend to overact sometimes. By exploring the inner voice of a character, we can be intrigued by its honesty. We will find fast ways to get to this kind of characters without rushing it. Entering the stage with an honest character already carries all the story in it, we just have to explore and reveal it piece by piece. This workshop will give you a first glimpse of how a wonderful story can be developed on stage just by being honest.
Discount groups: Students, members of Oulun Ylioppilasteatteri, pensioners, unemployed.
Pre-registration is required for all workshops. Please use the form below for questions and registration:
Performances
Friday
Festival Opening Show at Valvesali (Valve)
More information soon.